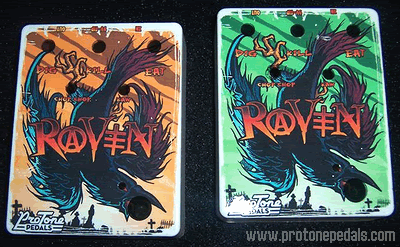 from
Pro Tone Pedals
myspace blog:
New Raven Colors - Sunday, February 10, 2008

Paul really liked the original white background the first run of the Ravens had, he loved the silver boxed models, too... but he always wanted something to really POP. Something that would match the promo postcard we printed up for NAMM last year. So FINALLY we're able to add some coloring to take the look of the unit to a whole new level.
***************************************************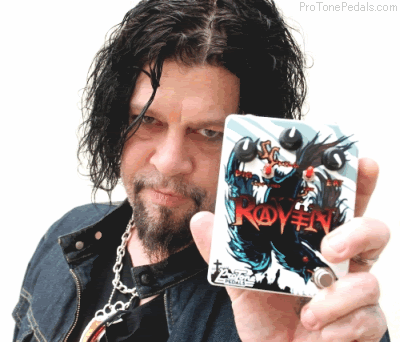 http://protonepedals.com/products/modulation/raven.html
***************************************************
from Pro Tone Pedals myspace blog:
Rest in peace my friend

When we heard the news of Paul Ravens passing this weekend it was as if all of us had been kicked in the gut. I personally was not prepared for such overwhelming grief.
Having worked closely with Paul over the last year and a half we can not begin to express our profound sadness. We grew a bond based in creativity but grounded in the business world, and watching Raven weave the two was a joy. As many have said over the weekend he was one of the good ones. A Rock N Roll pirate, a freedom fighter, a creative spirit that will not be stopped.

We send our best wishes to Paul's friends, family, and most importantly to his children.

Dennis Mollan
Pro Tone Pedals
Pro Tone Pedals myspace:
http://www.myspace.com/protonepedals
Pro Tone Pedals -= R A V E N =-

http://www.protonepedals.com/
Gearwire:
Paul Raven And Pro Tone Pedals: The Raven Dirty Chorus Stompbox
Gearwire:
Pro Tone Raven Chorus Stompbox: You Read About It Here First
Gearwire:
Pro Tone Pedals: Unique Stompboxes
Thank You Mr. Dennis.