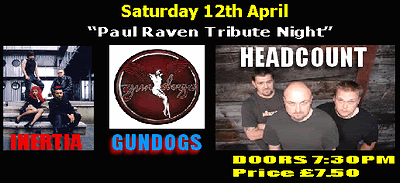 Nice Flyer.
from
October File
myspace:
Unfortunately October File have had to pull out due to illness but will be replaced with Inertia featuring Killing Joke keyboardist Reza.
from
Headcount
myspace blog:
Unfortunately due to health problems, October File cannot join us on Saturday. We're gutted and know that many others will be too. We're wishing Steve a speedy recovery!

Fear not though, we are delighted to announce that Reza and Inertia will be playing and saving the day!
from
Inertia
myspace blog:
Saturday 12th April - THE BRIDGEHOUSE, Canning Town, London, UK (with GUNDOGS - paul raven's brother Dan Raven's band + HEADCOUNT). Full Inertia headline set!
===================================================
from
KILLING JOKE
myspace bulletin:
RAVEN MEMORIAL GIG

Saturday April 12th will see a special gig remembering with fondness Paul Raven, bassist from Killing Joke, Ministry Prong etc who died in October of last year.

The gig will be held at The Bridge House 2, Bidder street, Canning Town, London.

Tickets are limited in number and are on sale now at here priced at £7.50 each.
===================================================
from
BLABBERMOUTH.NET
:
PAUL RAVEN Memorial Concert Planned In April - Mar. 20, 2008

Saturday, April 12 will see a special gig at he Bridge House 2 in London remembering with fondness Paul Raven, bassist from KILLING JOKE, MINISTRY, PRONG, etc., who died in October of last year.

The special lineup features three bands that all have a close association with Paul — and none more so than GUNDOGS, who feature Paul's brother Dan on bass. Dan said of the event, "I hope that this show and the love that underpins its spirit, will be loud enough to reach Paul at the right hand of God. He would be proud to see so many of his great friends come together in this way."

Also featuring on the bill are OCTOBER FILE, who many will have seen on recent KILLING JOKE tours, and HEADCOUNT, who had their 2004 album "Die Monkey Die" produced by Paul.

HEADCOUNT singer Rob Moss said of Paul, "What better way to remember Paul than an evening of floor to floor rock n roll. He'd have been first up there, kicking it up!" Steve Beatty of OCTOBER FILE added, "We shall endeavor to honour and salute Paul as best and as fitting as we can. We hope he is attending in spirit."
===================================================
BH2 - The BRIDGEHOUSE II
Bidder Street
Canning Town
London
E16 4ST
Gundogs feat. Dan Raven:
http://www.myspace.com/gundogs
with
Headcount
+
October File
(not Octoberphile)
===================================================
Metal Underground.com:
October File To Perform At Paul Raven Memorial
Metal Underground.com:
October File To Take Part In Paul Raven Memorial
#
5.28 Treponem Pal + Gundogs Live (London)