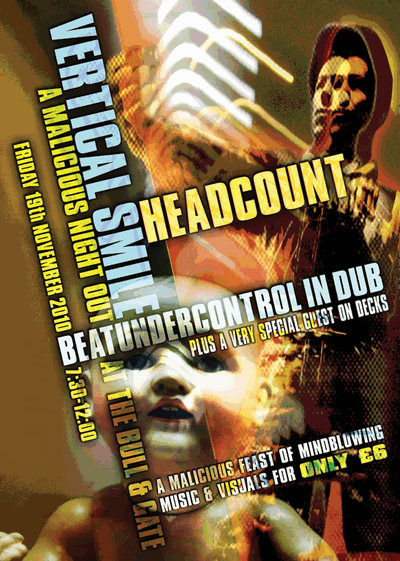 MALICIOUS NIGHT OUT @ THE BULL & GATE, FRIDAY 19.11.10, 7:30-12:00pm
The latest Malicious Damage night out sees Youth taking a night off from Killing Joke to join his disco-punk brothers VERTICAL SMILE celebrating the release of their new EXPLODE EP and showcasing material from their upcoming debut album SEX, DRUGS AND LEISURE
Sweden's BEATUNDERCONTROL brings bass evangelist Ulf 'Rockis' Ivarsson's continuing mission into the ever-throbbing rebel heart of dub in its purest form playing material from the newly-released and highly-acclaimed album BEATUNDERCONTROL IN DUB.
Malicious Damage stalwarts and all-round noisy bastards, HEADCOUNT, shake the Bull & Gate to its foundations with their sweet cocktail of thundering bass, pounding drums and scathing guitar. Audience participation welcome.
All this against a mind-bending backdrop of eye-shattering visual extravagance from the malicious projectors.
Plus special guest DJs & the usual malicious shopping opportunities.
$$$$$$$$$$$$$$$$$$$$$$$$$$$$$$$$$$$$$$$
Friday 19th November 2010
Vertical Smile + Beatundercontrol + Headcount
- doors at 7:30pm [
more info
]
ONSTAGE at:
8:30pm Headcount
9:25pm Beatundercontrol
10:25pm
Vertical Smile
The Bull & Gate (389 Kentish Town Road , London , NW5 2TJ):
http://www.bullandgate.co.uk/
http://www.myspace.com/bullandgate
Malicious Damage:
http://www.maliciousdamage.biz/
http://www.myspace.com/maliciousdamage79
$$$$$$$$$$$$$$$$$$$$$$$$$$$$$$$$$$$$$$$
[Info] 2011.01.24 European Super State EP? [
hmv.com
]
[Info] 2011.01.17 European Super State EP? [
so what
]
[News] Svart Records wrote:
Killing Joke vinyl release date is unfortunately postponed to the end of the month, for which we offer our apologies. [check]
[PR] 12.05
TRIBAZIK
Vs. The Young Gods (London)