[Info]
9.27 KILLING JOKE "Absolute Dissent"
[French Joke] 9.27 Absolute Dissent [1CD] [
Amazon.fr
]
[Info] Absolute Dissent [
Amazon.de
]
[
Article
] Jaz Coleman's Guide To Absolute Dissent [
The Quietus
]
'The Raven King'

TQ: The album's emotional centerpiece. An atmospheric keyboard opening sets a backdrop for Jaz's plaintive, heartfelt lament. Guitars and bass roar in for a soaring, epic chorus. Musically this could fit seamlessly onto Brighter Than A Thousand Suns.

JC: It's not a song about Paul Raven, it's about Raven's anger and things he felt passionately about. It's a song for Englishmen. It starts – "the raven has flown and left the tower / and Albion feels all abandoned / a desecrated cenotaph, surveillance state and waning choices / guided by warriors we knew, guided by ancestral voices". And then there is Raven's belief in the original idea of anarchy – "let flags of black and red unfurl / echoes of distant laughter / confederation of the dispossessed / fearing neither god nor master". Raven was a street guy. He believed in a confederation of like-minded individuals, so we tried to be as true to his ideas as we could. The last thing Raven said to me when he left Prague was "carpe nocturno", which is the last line. It touched me when I sang it and heard it back, and I was lost for words.

TQ: Was it a difficult song to record for all those reasons?

JC: It was a difficult song to listen back to. When you're singing, you don't think. That was my first mistake, and Conny Plank brought that to my attention. I used to think about the lyrics I was singing about, but you don't, you just switch off. The heart has to take over.

TQ: Was there any discussion about the song beforehand?

JC: No, no. It started like this – we were in a jam session and Youth goes "Right – let's do one for

Raven

! Let's go!" (laughs) and it went like that!
[
Article
] CD Review - Absolute Dissent [
Midlands Rocks
]
here's then a bit of an interlude with two slower tracks "The Raven King" and "Honour The Fire" either of which could be said to be tributes to

Paul Raven

.

The full track-listing for the main disc is as follows:-
1. Absolute Dissent
2. The Great Cull
3. Fresh Fever From The Skies
4. In Excelsis
5. European Super State
6. This World Hell
7. Endgame
8.

The Raven King


9. Honour The Fire
10. Depthcharge
11. Here Comes The Singularity
12.

Ghosts On Ladbroke Grove



Absolute Dissent will be available from 27th September with European Super State released as a single on 6th September on Spinefarm Records UK

* Let's compare track-listing - The Noise Cartel
* More CD Review - Sonic Shocks
[
Article
] Jaz Coleman interview [
SONIC SHOCKS
]
[Info] Terrorizer magazine free CD "Fear Candy 82" feat. KJ
[
Article
] On the Road with Killing Joke in China [
ARTINFO
]
[Info] 9.25 Reza's INERTIA "Interpret [1CD] (DWA915J)" [
HMV.co.jp
]
[Info] 9.29 KILLING JOKE new album JP SHM-CD [
CDJapan
]
[Info] 8.xx Reza's INERTIA new single "Repeat & Follow" [
check
]
[Info] Absolute Dissent [Import] [
Amazon.co.uk
]
[Info] In Excelsis EP [CD]
In stock
[
Amazon.co.uk
] [screenshot
1
,
2
]
[Reminder] 9.6 European Super State EP [
Bravewords.com
]
[Reminder] 9.6 V/A : Killing Joke Tribute [
Record Shop X
]
$$$$$$$$$$$$$$$$$$$$$$$$$$$$$$$$$$$$$$$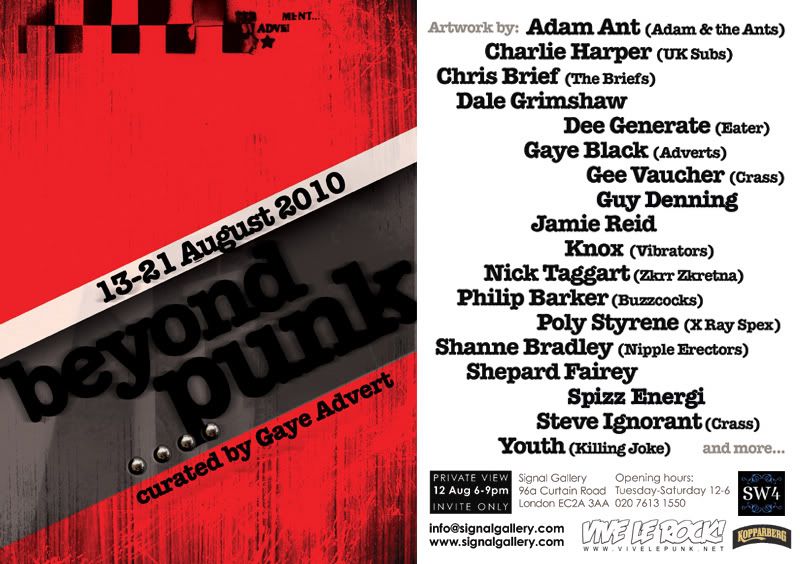 Youth
wrote:
Im in a group exhibition next week in east london "Beyond punk" i have 5 paintings up for sale
Signal Gallery (96a Curtain Road, Hoxton, London, EC2A 3AA)
http://www.signalgallery.com/
FADWEBSITE:
PREVIEW: 'Beyond Punk' curated by Gaye Advert at Signal Gallery 13th – 21st August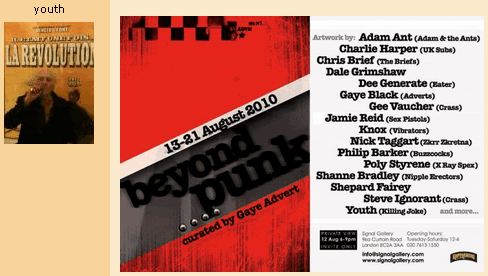 Good Self-Promotion. Respectable.
Stupid Shameless Self-Promoters
HERE
.
Rest in peace PAUL RAVEN & his Mob Research.