from
PAUL RAVEN TRIBUTE PAGE
WE WOULD LIKE TO THANK PAUL FOR HIS PRECIOUS TIME SPENT MAKING THIS ALBUM
YOU WILL ALWAYS BE WITH US THROUGH YOUR MUSIC !!!!
REST IN PEACE !!!!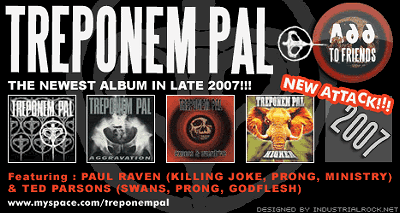 --------------------------------------------
from Uncle AL's
The Piss Army Forum
TREPONEM PAL / MARCO NEVES REMEMBRANCE


"DANS NOTRE COEUR POUR TOUJOURS"

I met this guy 15 years ago !! the feeling from the very beginning was a very strong connection !! a true human very optimistic and living the life at 1000 % . Our vision of music and our taste so opened in
different ways, to a lot of different sounds and colors, which is so important to create something original to bring us out of the same classic "routine". He was a true rebel, a real "rude boy".... coming up on stage with such an infectious energy to offer !!!! He was using Music as a weapon !!! and the most important was the way he loved to share everything with his friends and all people in general !!!
A VERY UNIQUE HUMAN BEING !! AN ORIGINAL FREEDOM FIGHTER !!!!
PAUL YOU'LL BE FOREVER TATTOOED IN OUR HEARTS !! REST IN PEACE !!

MARCO NEVES.
--------------------------------------------
from Treponem Pal myspace:
A tragedy !

Saturday, October 20, 2007 - Treponem Pal is saddened to announce the devastating news of the sudden and unexpected death of Ministry's bassist, Paul Raven. Raven was working with us on our new collaboration with Ted Parsons (ex-Swans/ex-Prong/ex-Killing Joke/Jesu) in Studio des Forces Motrices in Geneva. Initial reports indicate Raven's passing was the result of a heart attack.

Our thoughts and prayers go out to Raven's family and friends around the world.

His love of life, artistic creations and joyful laughter touched and moved all of us deeply. The loss of this extraordinary artist, unique individual and loyal friend will be felt by many. The impact of his talents will be remembered forever but his contribution to the lives of everyone who knew him is his greatest legacy.
Treponem Pal myspace
http://www.myspace.com/treponempal